South Platte Renew seeks out new ways to reduce costs, improve environmental sustainability and increase process performance. We look for new opportunities each day to help us achieve these goals.  Below are current projects and innovations taking place.

Projects in Review
South Platte Renew continually aims for new innovation and sustainability for our facility, to better serve our stakeholders.
Master Plan
The 2019 Master Plan identifies infrastructure improvements and operational enhancements that allow SPR to be both financially and environmentally sustainable. The prioritized implementation plan includes a justified 20-year capital improvement plan (CIP) that balances capital and operating expenditures to achieve long-term financial sustainability. For this plan, longer term planning drivers were also assessed to allocate the physical space needed over the next 20 years. This approach provides a realistic expectation of financial resources in the near-term and allows for integrating innovative and reliable processes in the future.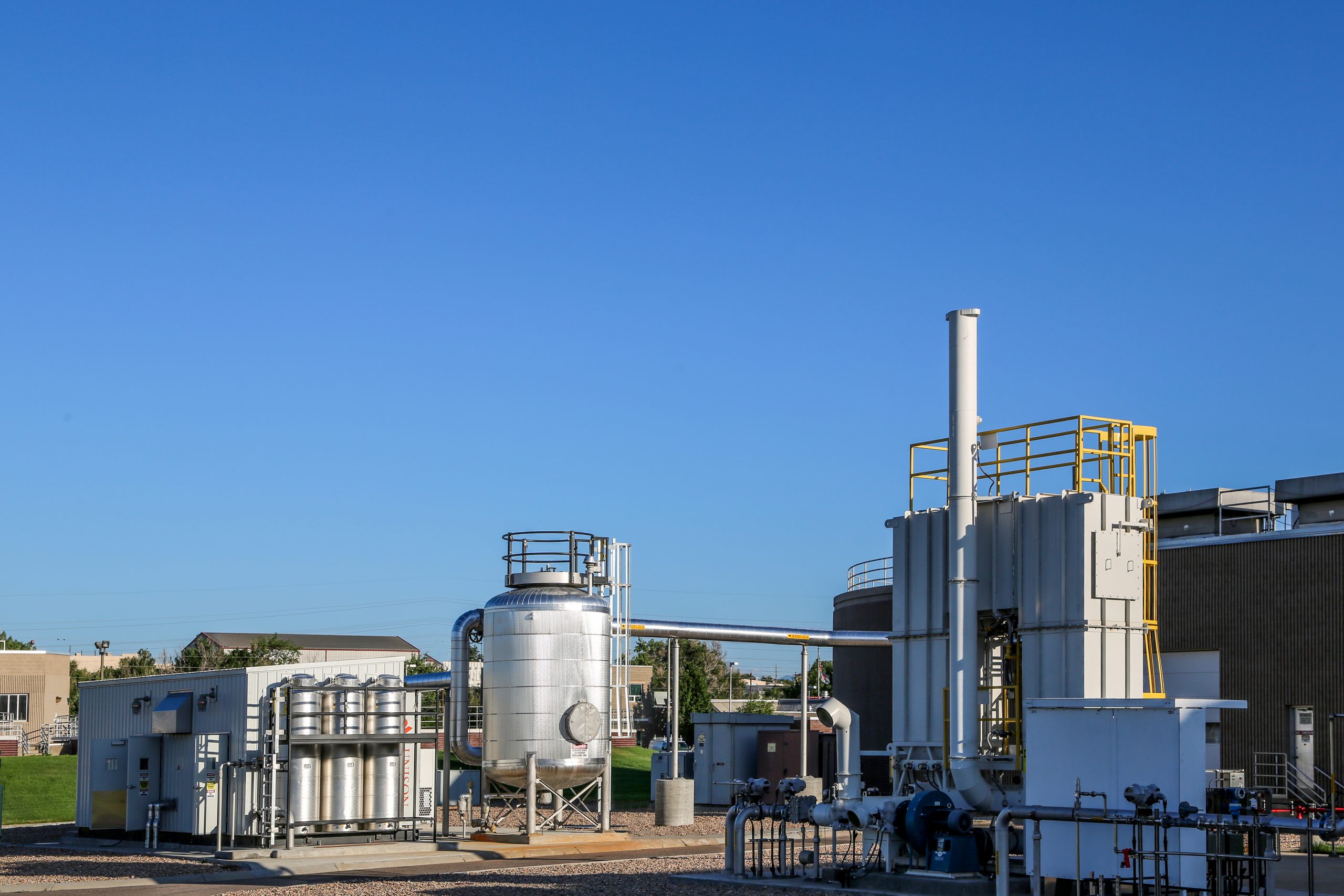 Biogas
In 2012, SPR initiated the Energy Improvement Program (EIP), which targeted identifying areas where operational improvements or systems innovation could improve overall energy efficiency. One of the areas of focus of the EIP was evaluating the beneficial use of the anaerobic digester gas produced on-site. Historically the facility's digester gas has been used for digester heating with the remainder (approximately 60 percent of the gas produced) flared in a waste gas burner.
By 2017, the EIP led to the development of the "Biogas Use Applications Report", a collaborative plan produced in conjunction with Carollo Engineers which identified and compared multiple beneficial use alternatives to solely flaring the biogas. The EIP report recommended utilizing the biogas be refined and injected into a nearby Xcel Energy pipeline for distribution.
Construction of the SPR Biogas Pipeline Injection Project began in September 2018 and was to be complete in October of 2019. The completion of the SPR Biogas Pipeline Injection Project marks the first pipeline injection project implemented at a WRRF in Colorado.
Today, over 95% of SPR's generated biogas is recaptured as RNG and injected into the natural gas pipeline owned by SPR's project partner and local natural gas utility, Xcel. This reuse method offsets the equivalent of 7,600 liters (2,000 gallons) of gasoline per day and over 22 million petroleum-fueled passenger vehicle kilometers (13.5 million miles) per year, reducing fossil-fuel-based carbon dioxide emissions by more than 5 million kilograms (5,000 metric tons) per year. Beyond its environmental and community benefits, this pipeline injection system is anticipated to collect a significant return on investment.

Sodium Hypochlorite
This project focused on the replacement of two (2) Sodium Hypochlorite Tanks, level sensors, and associated piping that had reached the end of useful life. The tanks were replaced in-kind with 4600-gallon polyethylene tanks and the piping system and gaskets were upgraded with materials that are more suitable for use with chlorine. The floors were also cleaned and resealed to protect from deterioration during deliveries and tank/pumping system use.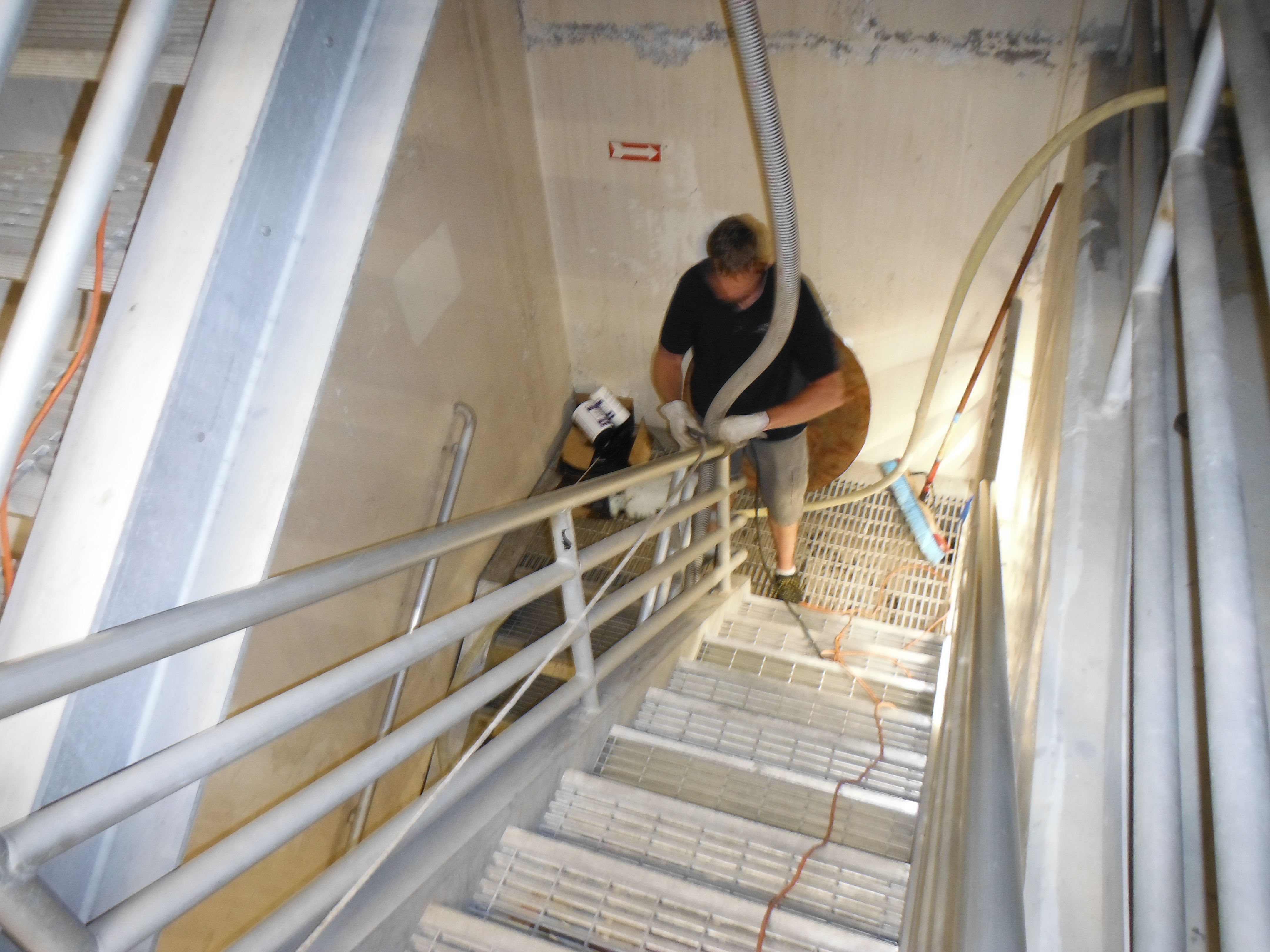 Facility Infrastructure
This project entailed repairing and replacing a potpourri of facility infrastructure and process needs. It included roof access ladder replacements, stair replacements, small curb, gutter, and miscellaneous concrete repairs, Nitrifying Trickling Filter (NTF) guardrail base connection replacements, downspout repairs, influent channel concrete repairs, and NTF 1 and 2 foul air duct drain repair.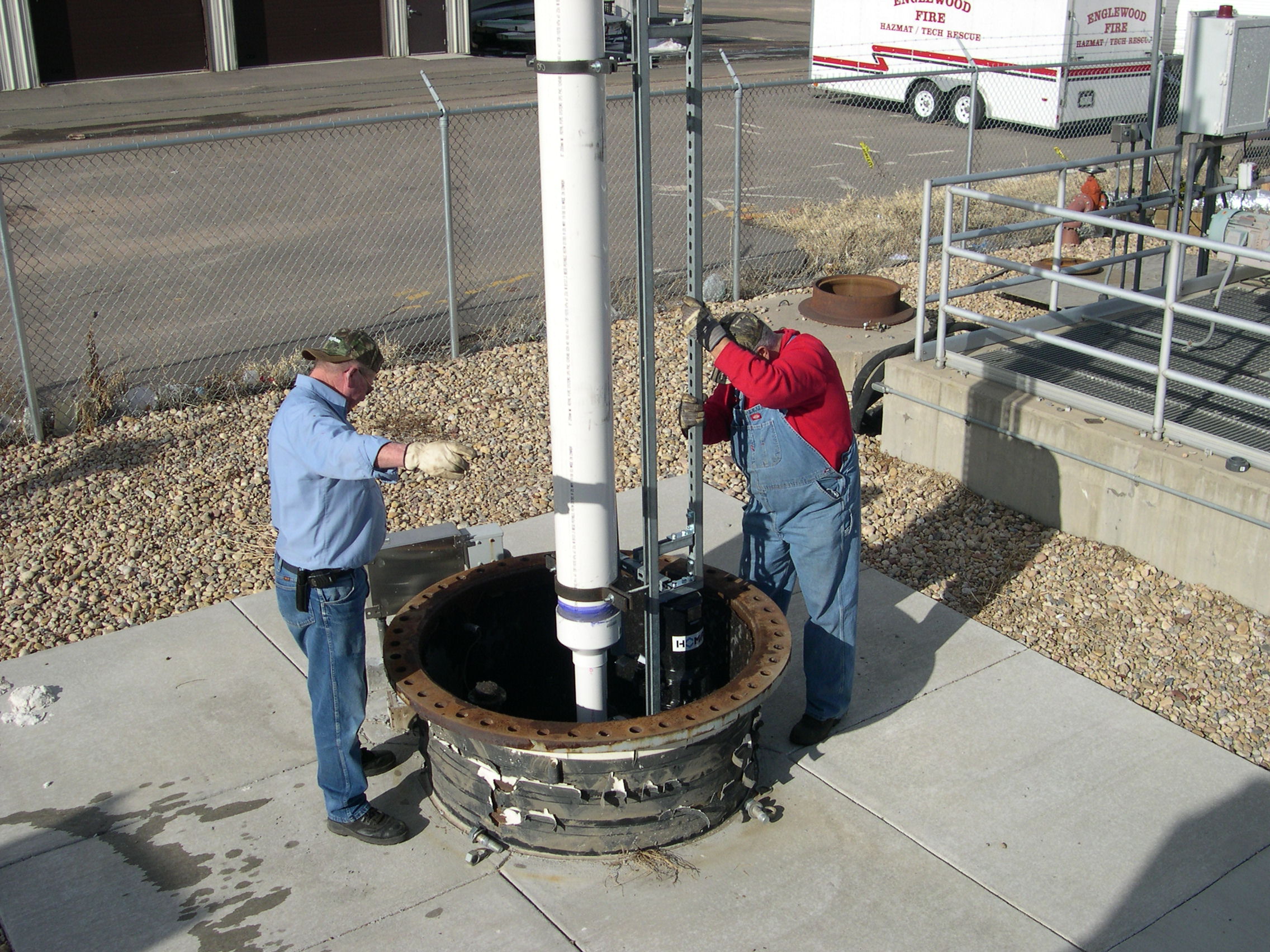 Current Projects
South Platte Renew continually aims for new innovation and sustainability for our facility, to better serve our stakeholders Our current and ongoing projects are listed below.

Chem P/UV
Treated effluent is discharged into the South Platte River which flows north through the Denver Metro area. Because the river is host to numerous aquatic habitats and has water rights dedicated to several districts along its path, the Colorado Department of Public Health and Environment (CDPHE) Water Quality Control Commission (WQCC) has instituted new limitations, Regulation No. 85, for phosphorus and nitrogen to be met by June 2023, outlined in Table 1.
Table 1. Regulation 85 Effluent Objectives – 30 Day Average
The table is shown to the left  
Included in Regulation No. 85 is a 10-year voluntary incentive program which grants an extended permit compliance timeframe to meet more stringent future nutrient regulatory requirements (Regulation No. 31) to wastewater treatment plants able to achieve voluntary nutrient reductions below the requirements outlined in Regulation No. 85 between 2018 and 2027 (see Table 1). With the existing treatment scheme, SPR is treating to low enough TIN limits and gaining incentive credits for Regulation No. 85 and intends to pursue nitrogen removal incentive credits through the program. Currently, SPR does not have the capacity to treat phosphorus to comply with Regulation No. 85 phosphorus limits or incentive program limits of 1.0 mg/L and 0.7 mg/L, respectively.
After the Master Plan was completed in April 2019, it was determined that chemical phosphorus removal would be the preferential method to decrease effluent phosphorus concentrations at SPR. Chemical phosphorus removal was the selected process alternative due to the fact that SPR can achieve Regulation No. 85 limits with lower capital costs, minimal necessary modifications to the existing infrastructure, and the ability to complement the selected solution to meet Regulation No. 31 in the future. Additional benefits to chemical phosphorus include the potential to increase biogas production from increased solids, mature technology, and adaptability to changing influent conditions.
In addition to the chemical phosphorus removal system design, SPR has included the conversion of the existing chlorine disinfection system to Ultraviolet (UV) disinfection. By converting the disinfection system from chemical disinfection to UV disinfection the facility can drastically decrease chemical usage, have consistent and reliable control over the disinfection process, and effectively meet all discharge permit requirements for disinfection. An additional driver for the conversion to UV disinfection would be abandoning the use of the ammonia bypass flow at the facility needed for chloramination formation. Discontinuing the ammonia bypass, not needed for chloramines with the install of UV, will result in achieving lower TIN limits in the effluent.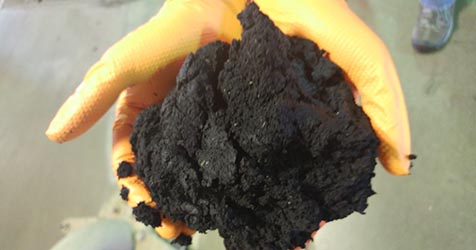 Dewatering
This project was used to identify the assets within the Dewatering Building that offer the most beneficial near-term improvements and also create the schedule for implementation of those assets. The main goal of the project is to provide recommendations on what repairs or replacements can be made to enhance the dewatering facility efficiencies. This project is really the foundation that will be used to identify the proper phasing of multiple design and construction projects to follow as repairs to this facility will span 5 years, with the intention of replacing the building in 15-20 years.
Laws Pilot
In an effort to reduce both loading and chemical usage, SPR will complete the Laws Denitrification in Reaeration Basins Pilot Project (Pilot Project or Project) which allows the addition of a food source that is high in carbon to one of the Reaeration (RA) Basins onsite to remove nitrogen prior to the Denitrification Filters. The blowers in the first half of the basin will be shut off to create an oxygen-deficient environment, the carbon will then be added and will mix with the nitrate-rich water and solids. During this mixing, the microbes present will metabolize the carbon and use the nitrate as an oxygen source. This will transform the nitrate to nitrogen gas which is then released into the atmosphere.
SPR has partnered with Laws Whiskey House in Denver, CO to provide carbon-rich stillage as the food source for the pilot project. Laws has shown interest in creating a more sustainable production process which aligns well with initiatives put in place by the Cities of Littleton and Englewood. Through this partnership and with a successful project, SPR may be able to further reduce chemical dependency while reducing the carbon footprints of other local businesses.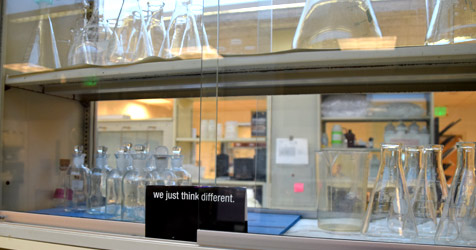 Influent Fractionation Study
Our facility has created a Strategic Operating Plan to explore innovative ways to meet strict requirements on certain nutrients before they enter the watershed. Regulations 85 and 31 will force us to improve our processes and enhance our technology. This plan tests biological and chemical treatments on water before it is released into the South Platte River. Our data contributes to development of certain models that will stimulate processes and control nitrogen and phosphorus outputs.  Information from the study supplies will help decide the best possible changes moving forward.