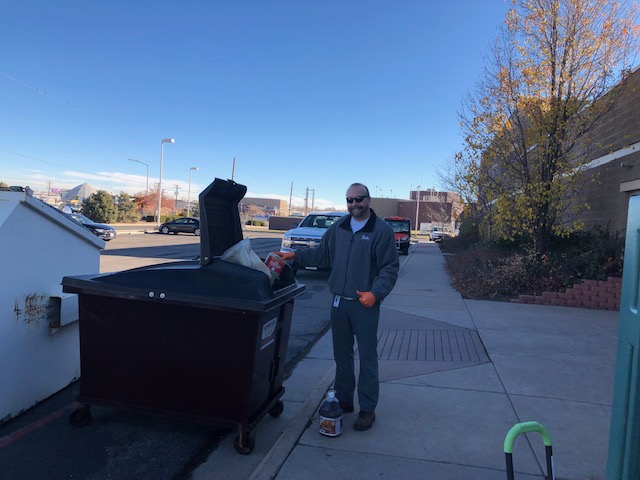 Holiday cooking can leave gallons of unwanted food oil to clean up. Drains and pipes are not proper disposal areas and many containers cannot handle the heft of these hot, greasy liquids. Large deposits of greasy, fatty oils can eventually harden and cost cities thousands of dollars in construction and plumbing repairs.
Fortunately, the South Platte Water Renewal Partners offered a way to rid households of the mess during the 2nd Annual SPWRP Grease and Oil Take-Back event on Saturday, November 24. The facility opened its doors at 2900 S. Platte River Dr. from 9 a.m. to 12 p.m. with collection areas for both cooking oil and automotive oil.
The day was open to residents of the facility's service area, which includes the cities of Englewood, Littleton and its 19 connector districts. All oils were required to be separated and free of food debris, contaminants such as solvents or other fluids. Each household was allowed 10 gallons of slippery liquid and given a chance to win a basket of fun cooking essentials.
In all, 34 cars pulled up during the event with eager residents ready to dispose of the waste. SPWRP Director Pieter Van Ry along with Deputy Director Kacie Allard, Business Process Specialist Renee Moe, O&M Superintendent Vince Heiken and Public Education Specialist Deb Parker were on hand to assist people with their after-holiday housecleaning. Guests stayed during the event to enjoy hot dogs and learn more about Colorado's third largest water renewal facility.
A total of 42.5 gallons of auto oil and 204.5 gallons of cooking oil made it safely into the collection containers at the facility. That means the sewer collection system was saved from a possible blockage from hundreds of gallons of household waste. SPWRP's event was also an opportunity to educate communities about safe disposal of materials that can cause severe issues with the collection system and household plumbing.
"I am very impressed with the turnout at the Grease and Oil Take-Back.  Advertising by our cities and connector districts really paid off." said SPWRP Public Education Specialist Deb Parker. "Our communities benefit from working together with the water renewal process so we can all stay safe."
Oils are just one of the types of waste that should never be poured down drains. Many other household items can be dangerous for the collection system as well. View SPWRP's "What not to flush" section for more information. Want to learn more? Book a tour with water renewal specialists today.